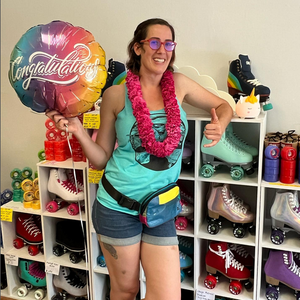 Welcome to Roller Skate Oʻahu
We help get you rolling
And keep you rolling
And promote community
Busy week (and month) ahead!
Fall got busy!
With the Kailua Fall Festival this weekend, and a bunch of skate events happening next month, we're keeping busy! As a small local roller skate shop with big dreams, it's not always easy, but we do our best to support the skate community, and we are extremely grateful to skaters who come back and get their gear from us! Thank you so much! Your purchases help us keep the lights on one more day, which in turn lets us help promote this wonderful and wholesome activity that we all love.
Help us pay our rent! Drop by the shop and we can help you choose the right gear to freshen up your skates!
If you are looking for a new pair, we can help with that too! Please DM us on Instagram or Facebook, or text us at 415-SK808HI (415-758-0844) to schedule in your skate fitting!
Sunday, September 24, 3pm-8pm
Monday, September 25, 3pm-6:30pm
Tuesday, September 26, CLOSED
Wednesday, September 27, 12pm-8pm
Thursday, September 28, 12pm-8pm
Friday, September 29, 3pm-8pm
Saturday, September 30, 12pm-8pm
Sunday, October 1, by appointment
On Saturday, September 30, we will be participating in the Kailua Fall Festival from 4pm-10pm. Our booth will be in front of the Down to Earth in Kailua. Come say hi to Melissa, and we will also have friends from Sk8 Ambitions, Rainbow Rollers, CIB Oʻahu, and Pacific Roller Derby to tell you all about their groups and upcoming events!
Our shop is at 35 Kainehe St in Kailua, next to Salt Hair Salon, Protea Zero Waste, Leinaiʻa, Good Clean Food Hawaiʻi, and Gracie Jiu Jitsu Kailua. #supportlocal and drop by their stores when you visit ours!